Junior League of Mobile Announces Fundraiser Dates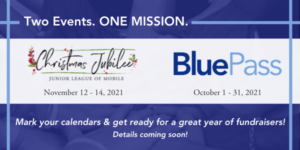 The Junior League of Mobile announced the 2021 dates for their signature fundraisers, BluePass and Christmas Jubilee.
BluePass will take place the entire month of October and Christmas Jubilee will take place Friday, November 12 – Sunday, November 14.
BluePass is a shopping card fundraiser that provides special discounts and deals to card holders. Local retailers and restaurants sign up to participate for free, offering a discount to the BluePass card holders throughout the month of October. Merchants or sponsors wanting to participate can learn more on the BluePass event page.
Christmas Jubilee is the Gulf Coast's greatest holiday market, featuring a variety of merchants from around the country under one roof for three exciting days of shopping. The 2021 event will be held at the Mobile Convention Center in downtown Mobile. The committee is currently accepting merchants. Fill out a merchant application or learn more about the event on the Christmas Jubilee event page.
Funds raised from BluePass and Christmas Jubilee help support Junior League of Mobile's community impact area, childhood hunger, fitness and nutrition, and programs like Adopt-A-School and the Diaper Bank. It also allows the organization to work with community partners such as the Gulf Coast Exploreum, Prodisee Pantry, the Joseph Project, and Distinguished Young Women.
ABOUT JUNIOR LEAGUE OF MOBILE
Junior League of Mobile (JLM), founded in 1925, is an organization of women committed to promoting voluntarism, developing the potential of women, and improving communities through the effective action and leadership of trained volunteers. Its purpose is exclusively educational and charitable. The organization's economic impact is about $1 million annually, combined in funds invested in the community and the value of its volunteer hours as calculated using Points of Light Foundation metrics.