THANK YOU FOR SUPPORTING JLM AND BLUEPASS!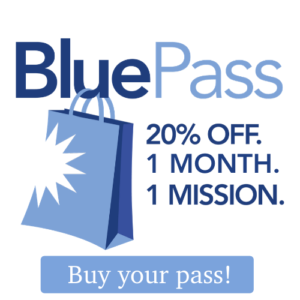 Your participation as a merchant or shopper helps Junior League of Mobile (JLM) build better communities. This discount card raises funds that help JLM improve the lives of children in our communities through our impact area – Healthy Children: Hunger, Nutrition & Fitness.
The 2020 BluePass shopping period took place during the month of October, and over 340 shoppers used their BluePass to take advantage of exclusive discounts and deals at local participating merchants.
More information about the 2021 event will be made available in June 2021.
BluePass was made possible through the support of our sponsors.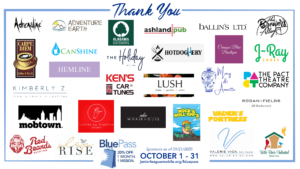 Thank you Adrenaline, Adventure Earth Bicycles and Boards, Alabama Outdoors, Ashland Midtown Pub, Ballins LTD, Can Shine, LLC, Carpe Diem Coffee & Tea Co., Hemline, J-Ray Shoes, Ken's Car Tunes, Kimberly Z. Artwork, Lashes by Angeline, LUSH Home Garden Event, Mary & Annette, Mobtown Merch, Red Beard's Outfitters, Salon Whairhouse, Shop RISE, The Brewer's Alley, The Hotdoghery, LLC, The PACT Theatre Company, Vader's Fortress, Valerie L. Vick , MD – Eye and Face Aesthetic Center, Wild Birds Unlimited.
Thank you also to our newest sponsors, Friends of BluePass! These individuals and businesses cannot offer a discount, but chose to support Junior League of Mobile through this new sponsorship level. Thank you: ADHD Medical Clinic, Advanced Insurance, Anders, Boyett & Brady, PC, Infinity Roofing, Lee & Hughes, LLC, McFadden Engineering, Inc., MilliMedia, Proxi Public Relations, Ruland & Ruland CPAs, LLC, The Law Offices of Teague and McBay, and Tiffany Nelson.
Thank you to those merchants who also donated to BluePass: Ashland Midtown Pub, Roosters, Meat Boss, The Spiffy Fox, Crimson Blue Boutique, Golden Lily, Dauphin Island Sea Lab, Kimberly Z. Artwork, Crawford McWilliams Art, Favorite Laundry Clothing, F45 Training Springhill and Daphne, Meggie B's, and The PACT.
Follow the links below to learn more about:
How to become a BluePass Sponsor – 2020
How to become a BluePass Merchant – 2020
Your participation in Junior League of Mobile's (JLM) BluePass — as a merchant or shopper — helps JLM build better communities! That's because BluePass is more than just a discount card; it's also a fundraiser that helps JLM focus on improving the lives of children in our communities through our  impact area — Healthy Children: Hunger, Nutrition & Fitness.
How BluePass Works
BluePass can be used from October 1st through October 31st
Cost is $30 and provides users with a 20% discount at over 250 merchants throughout Mobile and Baldwin counties. Click here to view last year's merchants.
Purchase a BluePass on line here.  All buyers will receive a digital pass and you can choose to also be mailed a physical BluePass card to keep with you!
BluePass is available for purchase to everyone in the community, not just JLM members.
All proceeds enable JLM to continue their community impact projects.
NEW FOR 2020:  Become a Friend of BluePass!  Friends of BluePass are businesses or members of the community who wish to support JLM but do not have a discount to offer.  As a Friend, your name will be listed on the JLM website and the front of the BluePass posters, with the designation that you are a Friend and that discounts are not offered through these businesses and/or individuals.