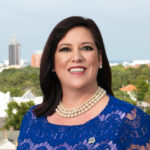 Junior League of Mobile is known for tackling issues through effective leadership, collaboration and compassionate service. Just as the needs of our community are constantly changing, so are we.
For 87 years, the Junior League of Mobile has trained women to be change makers in Mobile and Baldwin Counties. Our diverse group of members are constantly directly touching lives and making a difference in our communities. I am so proud and so grateful to serve alongside the extraordinary members of the Junior League of Mobile.
How does the Junior League of Mobile make things happen? Our members come together bound by their love for our city and the desire to meet like minded women who want to volunteer and assist our most vulnerable citizens. Each year, our members give more than 100,000 hours of uncompensated volunteer service to our community. These ladies give their time and talents to 11 partner agencies and 20 community programs focused on Healthy Children: Hunger, Fitness, and Nutrition. With every hour of volunteer time and every dollar of financial support to the Mobile and Baldwin communities, there is a story of a person whose life is better because of the Junior League.
Through their service, our members are equipped to tackle challenges that may once have seemed daunting or even impossible. Through the effective training of leaders, many have gone on to serve non-profits, run multi-million dollar companies and lead city-wide initiatives to continue their focus on improving our communities.
So, as our founders did in 1931, the women of JLM come together to lift Mobile and its surrounding areas up and to put in hours of service so that someone else's life might be a little better. Through actions large and small, our members demonstrate that JLM is truly a force of good in our city everyday. It is always an honor and a privilege to witness our members serve our community with their hearts, minds and hands. No doubt, our founders would be proud of our efforts.
All the best,
Amy Carpenter
2017-2018 Junior League President