UMS-Wright Students Donate Year's Worth of Diapers to the Junior League of Mobile Diaper Bank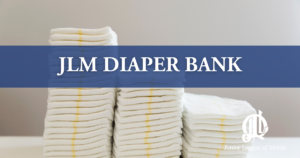 WHAT: UMS-Wright will be delivering a year's supply of diapers to the Junior League of Mobile.
WHO: Junior League of Mobile and UMS-Wright Preparatory School
WHEN: Friday, April 21 at 1:00 PM.
WHERE: Junior League of Mobile, 57 North Sage Avenue Mobile, Alabama 36607
WHY: Diapers are essential to a baby's healthy development, but many babies don't have the clean diapers they need.
Did you know: 1 in 3 U.S. moms report suffering from diaper need; Government assistance programs, such as: SNAP and WIC do not cover diapers; and 32% of children in Alabama under age three live in families with incomes below the federal poverty threshold.
The Junior League of Mobile Diaper Bank was established in 2018 to provide assistance to those in need of diapers from children to adults. We partner with 13 different agencies to distribute these across the community.
HOW: UMS-Wright has partnered with the Junior League of Mobile with a goal of collecting 60,000 diapers for the Diaper Bank from all grade levels combined.
MORE: The JLM Diaper Bank impact this year includes collecting and distributing more than 65,000 diapers. The public can access these diapers through any of our 13 partner agencies found on the link below.
YOU can address diaper need in our community by becoming a diaper sponsor. Learn more at https://www.juniorleaguemobile.org/donate/junior-league-of-mobile-diaper-bank/
Junior League of Mobile (JLM), founded in 1931, is a 501(c) nonprofit organization of women whose mission is to advance women's leadership for meaningful community impact through volunteer action, collaboration, and training. The organization's economic impact is about $1 million annually, combined in funds invested in the community and the value of its volunteer hours as calculated using Points of Light Foundation metrics. For more information, please visit www.juniorleaguemobile.org.