Junior League of Mobile Diaper Bank
Junior League of Mobile Diaper Bank supports area families in need with diaper donations.
IMPACT: 

The Junior League of Mobile Diaper Bank provided over 70,000 diapers to 15 partner agencies in 2022-2023.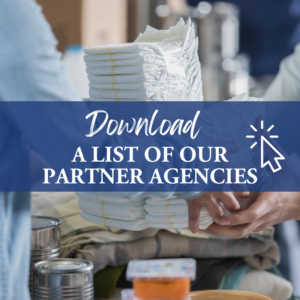 DID YOU KNOW?
Medicaid covers 1/3 of all births in the US but government programs don't provide diapers – a basic need for babies and toddlers.
Diaper needs impacts the physical and mental wellbeing of children.
Just a few health issues that come from poor diapering: Painful diaper rashes, diarrhea, urinary tract infections, Hepatitis A and viral meningitis
Most childcare centers require parents to provide a day's supply of diapers – without this, babies can't go to daycare, and their parents can't go to work.
A child who is sick due to poor diapering or one who is not allowed to attend daycare because their parent can't afford diapers is deprived of a learning environment which leads to long-term impacts.
PARTNER AGENCY APPLICATION NOW OPEN – 
HOW YOU CAN HELP
You don't have to be a Junior League of Mobile member to support the Diaper Bank! We welcome you to support community families in need in the following ways: