Southeast Tourism Society Selects Christmas Jubilee as an 'STS Top 20 Event'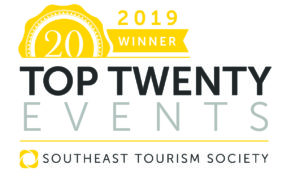 Southeast Tourism Society has named Junior League of Mobile's Christmas Jubilee as one of the STS Top 20 Events in the Southeast for November 2019.
This year's Christmas Jubilee is Friday, November 15 through Sunday, November 17. The STS Top 20 Festival and Event Awards have highlighted programs around the Southeast since 1985.
Travel industry experts select 20 events per month, and STS publicizes them throughout the United States. The complete list is published on two websites: Southeast Tourism Society and Travel Media Press Room.
The Gulf Coast's greatest holiday market features more than 100 merchants from around the country under one roof for three exciting days of shopping! The event is celebrating 35 years and serves as the largest fundraiser for the organization. The event features decorations, live entertainment, Art Walk featuring local artists, author's corner, and even a silent auction!
Merchant booths are still available and the application process can be found here. 
"The Top 20 Festival and Event Program is celebrating 34 years of spotlighting the best festivals and events in the Southeast. Our goal is to provide well-deserved accolades for the dedicated event organizers and additional media exposure for their events," said Monica Smith, president and CEO of the Southeast Tourism Society. "The Southeast offers so many unique, year-round, opportunities for attendees to create memories and support an industry that is an economic generator for its community."
Events considered for the STS Top 20 recognition must be at least three years old and have attendance of at least 1,000. The online nomination link and submission deadlines are available at SoutheastTourism.org or by calling 770-542-1523.
Junior League of Mobile (JLM), founded in 1925, is an organization of women committed to promoting voluntarism, developing the potential of women, and improving communities through the effective action and leadership of trained volunteers. Its purpose is exclusively educational and charitable. The organization's economic impact is about $1 million annually, combined in funds invested in the community and the value of its volunteer hours as calculated using Points of Light Foundation metrics.
STS, founded in 1983 and headquartered in Roswell, Ga., is a non-profit organization dedicated to promoting travel and tourism within 12 states – Alabama, Arkansas, Florida, Georgia, Kentucky, Louisiana, Mississippi, North Carolina, South Carolina, Tennessee, Virginia and West Virginia.