Junior League of Mobile's BluePass supports local through shopping fundraiser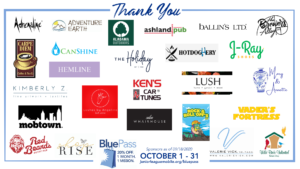 The Junior League of Mobile's (JLM) annual fundraiser, BluePass, was a great success even in a challenging year.
The shopping card fundraiser took place the entire month of October and had over 340 shoppers purchase cards to support over 100 local merchants in Mobile and Baldwin Counties. 
"This has been the year of change and adapting," said Amanda Gonzales, JLM President. "I am very grateful to everyone who supported our fundraising efforts and am extremely grateful to our members who took challenges and created opportunities.  JLM could not exist without people who support our work and mission."
The fundraiser was a great success, raising nearly $11,000 to help JLM build better communities through the impact area – Healthy Children: Hunger, Nutrition & Fitness.
"It was great to see the shoppers support the businesses who have so graciously supported our community through the years," said Shellie Teague, BluePass Chair. "We also couldn't have done it without the support of our returning and new sponsors."
The BluePass fundraiser just completed its 12th year and has raised over $140,000 for community initiatives. The $30 BluePass funds Junior League of Mobile's Diaper Bank and Adopt-A-School program. It also allows the organization to work with community partners such as the Gulf Coast Exploreum, Prodisee Pantry, the Joseph Project, and Distinguished Young Women. 
Potential merchants for 2021 can find more information at juniorleaguemobile.org/bluepass. For questions or sponsorship opportunities, contact Shellie Teague, BluePass Chair, at bluepass@juniorleaguemobile.org.
ABOUT JUNIOR LEAGUE OF MOBILE
Junior League of Mobile (JLM), founded in 1925, is an organization of women committed to promoting voluntarism, developing the potential of women, and improving communities through the effective action and leadership of trained volunteers. Its purpose is exclusively educational and charitable. The organization's economic impact is about $1 million annually, combined in funds invested in the community and the value of its volunteer hours as calculated using Points of Light Foundation metrics.