Junior League of Mobile Announces 2021-2022 Board of Directors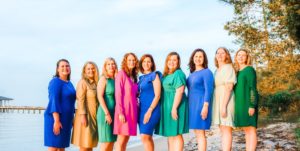 The Junior League of Mobile (JLM) has announced its 2021-2022 Board of Directors. This team of women will lead an organization with 90 years of service to Mobile and Baldwin County communities.
JLM strives to make a difference in the community by promoting the potential of women through voluntarism and leadership development. The organization's Board of Directors is chosen from its membership of over 1,100 professional, compassionate women and leads the organization for a twelve-month term beginning June 1. As a group, they are responsible for governance and management, ensuring JLM's adherence to the mission, vision, and strategic plan.
JLM is proud to welcome these members are the 2021-2022 Board of Directors:
Sarah Bumgarner – President
Amy Groves – President-Elect
Tara McCook – Planning Director
Ashley McKeithan – Nominating Director
Shellie Teague – Public Relations Director
Sasha Thatcher – Treasurer
Catherine Wynn – Recording Secretary
Bridget Archer – Governance Director
Andrea Moore – Sustaining Advisor
President Sarah Bumgarner says, "As we enter a new Junior League year, we face opportunities. Opportunities to help our community members continue to heal and rebuild, to train our volunteers in ways we haven't done before and promote the excellent work we are all involved in as members."
Last year JLM raised over $130,000 for community projects, collected and distributed over 10,000 diapers, provided school supplies, snacks, and uniforms to children through Adopt-A-School, and supported food programs in both Mobile and Baldwin counties. Some of JLM's best-known projects, many of which have grown into independent entities, include the Gulf Coast Exploreum, Mobile Arts Council, The Drug Education Council, Mobile Public Library's Bookmobile Program, United Cerebral Palsy of Mobile, and many more.
ABOUT JUNIOR LEAGUE OF MOBILE
Junior League of Mobile (JLM), founded in 1931, is a 501(c) nonprofit organization of women committed to promoting voluntarism, developing the potential of women, and improving communities through the effective action and leadership of trained volunteers. Its purpose is exclusively educational and charitable. The organization's economic impact is about $1 million annually, combined in funds invested in the community and the value of its volunteer hours as calculated using Points of Light Foundation metrics. For more information, please visit www.juniorleaguemobile.org.