In 2005, Junior League of Mobile (JLM) started Be Your Best Self Day. Once a year, we host the Distinguished Young Women (DYW) participants from all 50 states for a day of community service. This day was created so we could share our mission of promoting voluntarism, developing the potential of women and improving communities with the next generation of women.
Every year, JLM partners with different non-profit agencies to provide a chance for the DYW participants to learn firsthand the value of giving back to their community through voluntarism.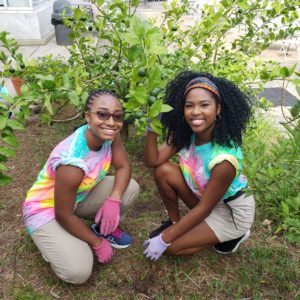 This year, the Junior League of Mobile welcomed the nation's 'Distinguished Young Women' from all 50 states back in person! JLM volunteers welcomed them, shared more information about the history of JLM and the agencies that were on the schedule, ensured they were fed throughout the day thanks to some amazing sponsors, and accompanied them to four of our partner organizations that we work with throughout the year: Dumas Wesley Community Center, Gulf Coast Exploreum Science Center, The Joseph Project, and United Cerebral Palsy. Our young leaders bonded with these members of our community in ways they hadn't even anticipated as detailed during their feedback session during lunch. From playing games with the children, to simply listening to their stories, to learning new ways to communicate with our differently abled children, to serving families at the food pantry, to planting a garden to demonstrate ways to nurture the community with nutritious foods – the Distinguished Young Women's loving touch on our city and very targeted areas of our community will be felt for years to come.
Junior League of Mobile is proud to be a part of this day each year, and of the difference these ladies are already making by being their best self.
Be Your Best Self Awards
In 2012, JLM became a part of Distinguished Young Women's Be Your Best Self essay contest. These scholarships are another way we live our mission by developing the potential of women.