2023 Community Collaborations by Junior League of Mobile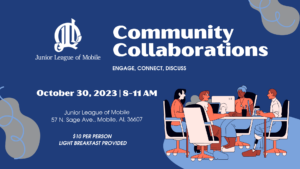 Join us for the return of Community Collaborations, hosted by Junior League of Mobile (JLM)! This is a signature JLM event, offering opportunities to work together with other non-profit agencies and schools to discover ways that we can collaborate to improve the effectiveness of agencies, services, and programs in our community.
This year's event will focus on team building and cohesion for nonprofit staffs and our community partner agencies. Our speaker will be the dynamic Leavie King of CoachedUp. A light breakfast and morning beverages will be served.
Seating is limited and registration is $10 per person. Register online to reserve your seat!