Junior League of Mobile Hosts Distinguished Young Women for 14th Annual "Be Your Best Self" Community Service Day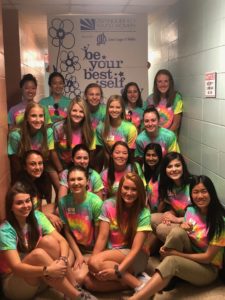 The Junior League of Mobile hosted the nation's 'Distinguished Young Women' from all 50 states as well as the 2018 winner for our "Be Your Best Self" Community Service Day on Thursday, June 20, 2019.
The delegates arrived at Junior League headquarters at 8 a.m. with an upbeat and electric energy that helped to jump start a positively impactful and memorable day. Over 15 Junior League sisters welcomed them, shared more information about the history of Junior League and the agencies that were on the schedule, ensured they were fed throughout the day thanks to some amazing sponsors, and accompanied them to four of our partner organizations that we work with throughout the year: Dumas Wesley Community Center, Gulf Coast Exploreum Science Center, The Joseph Project, and United Cerebral Palsy.
Our young leaders bonded with these members of our community in ways they hadn't even anticipated as detailed during their feedback session during lunch. From playing games with the children, to simply listening their stories, to learning new ways to communicate with our differently abled children, to serving families at the food pantry, to planting a garden to demonstrate ways to nurture the community with nutritious foods – the Distinguished Young Women's loving touch on our city and very targeted areas of our community will be felt for years to come.
We would like to thank three companies that freely donated to help us feed our amazing ladies: Battle House Renaissance Hotel & Spa, Renaissance  Riverview Plaza Hotel, United Rentals, and Coca Cola Bottling Company